Vera Mutafchieva's Friends – Relatives by Choice
Genka Markova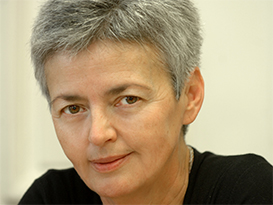 If you are writing about Vera Mutafchieva, be careful not to make any candied reading, it will not be Vera!

One of Vera Mutafchieva's friends, a professor of history, kindly warned me about this. It was a coincidence that we met on the way to Greece – we went on a short tour of small villages and towns, part of the Silk Road, right up to the southern border of Bulgaria. It was 2012, the end of May. The trip reminded us of experiences with Vera Mutafchieva, and I tried not to forget the instructions of her friend.

That's why I reached for this format – to interview friends and colleagues of Vera Mutafchieva, and let them recall her and tell how they remember the time with her.

Some of the interviews go a little beyond the goal – as happened during our conversation with Dimitar Todorov, for example. When he talks about Mutafchieva, he shrugs and talks more about his travels, but so it was with their meetings, which were also few in number. But with his stories, too, Vera looked at the world she could not travel in her later years. The case of Dimitar Todorov has another detail. His paternal great-grandfather Vasil Zlatarski (here the family line goes like this: Vasil Zlatarski, his grandmother, his father and Dimitar Todorov) was a teacher in historiography of Petar Mutafchiev, Vera's father.

Dear Genka,
Everything, everything!
Vera
This was written by Vera Mutafchieva at the end of a short note accompanying one of her journalistic essays, which we published in the newspaper where I used to work. It was August 2002, and the theme was, "For whom the bell rings on September 15?"
"Everything, everything!" – will say all the best, all the most wonderful. She said it as only she could.

As from many of our conversations in private or with other friends, fragments of her have remained, such as, "Every generation comes with its armor," "I am overwhelmed by the desperate realization that nothing depends on us. Slaves had status. And the Rayah had status. And we are electoral units in a democracy."

Or from another conversation: "My father told me: it is not bad for me to die so that my children become righteous human beings. God is my mischief maker and grants me more years. My father used to say about people like me: a goat. And in Bulgarian iconography the goat represents the devil. As for me I love goats ..." Or "There is no conflict of interest, there are tasty interests. How fast they are in a hurry to steal!" (May 2009)

Don't worry, Vera Mutafchieva told me the day before she entered Lozenets Hospital, it was May 24, 2009. She talked about how we would soon sit in her kitchen again as soon as she left the hospital. It sounded convincing. When I went to the hospital a few days later, I saw that she had taken her phone book with her, calling her friends as if to say goodbye.

Vera Mutafchieva was devoted to her friends. "Friends are relatives by choice," she said. And he looked for friends, found them, chose them, brought them closer to herself in her incredible way. She supported them with everything that circumstances allowed and much above them. Sometimes, in a conversation with random topics that seemed to be taken up by her, she gave as much strength and options for overcoming difficult situations as only a sage knows and can do. I never heard her complain or hint at any dissatisfaction with her destined life thresholds.

In the later years of our friendship, I also saw her in action, how she made a team, how she united it when her idea for the two volumes of "History populated with people" came to fruition. She started looking for people to interview the respondents, she never tired of calling everyone on the team, often persuaded one or another of our chosen contemporaries why it was important to tell their life and professional story. And when the manuscripts were collected, even though her eyes hurt a lot, she read all the interviews from beginning to end, threw in editorial work without sparing herself, so that the books had a complete image. And when the manuscripts were collected, even though her eyes hurt a lot, she read all the interviews from beginning to end, flinged into editorial work without sparing herself, so that the books would get a complete image. She had ideas for the volumes to continue – if sponsors were found for their publication, because she thought it was especially important for each person to look actively within themselves – and she probably hoped this inward look would help the individual after learning more from his own world, to better appreciate the external – social existence before communism, during communism and then in the so-called transition.

She also said that she could synthesize what she had learned from the "population" of the "History populated with people" in a scientific study, but it turned out that she did not have enough time. Many of the characters in these interviews are people with whom Vera Mutafchieva has crossed paths – professional, of life, or just suggested by fate.

That's why when I started working on this project, interviewing her friends, I imagined it as a continuation of "History inhabited by people". And I was somewhat encouraged by those words of hers in Bivalitsi (NonFables Worldly Occurrences) about meetings between people:
"After all, there seems to be something dark in the fluids that connects people of the same blood type, who differ in their answers about: nationality, place of birth, religion, education. There are unnamed markers floating - the essential, in other words.

I wish every young man, when – hopefully – he goes through a series of activities, and walks distances in geography and time, to be able to get to know more earthlings, to listen to stories about their fate, inventing them without wanting to. Because the first-person story-teller himself does not always realize what he is like, how much and why.

Even if you leave the world only with this gain – the interaction with a human multitude from different lands and colors – it will suffice to leave it laughing. Or on the contrary: if someone there spares himself (communication requires time, effort, stress and risk, attention to understand, even to remember things that are of no use for you), so that this one chooses a supposedly profitable economization and autonomy – let the scant one die deprived. They don't even know they were taken in. "(Non/fables, Book 4, 166 p.)

On December 9, 2009, half a year after her death, we had gathered a dozen relatives and friends in the church of St. Sophia. Among the friends I saw a person unknown to me, was Aneta de la Mar, a friend of Vera, a historian who teaches in Bogota, Colombia, for years. She rarely comes to Bulgaria, but she had managed to attend the day of the memorial service. Only half an hour before this meeting I had asked Marta Ivanova to send me Aneta's e-mail address to invite her for an interview from Bogota. We did it in Sofia, with the contribution of chance.

Again by chance, when I called to look for Dimitar Todorov's parents in Sofia and get his address, his mother told me that he was currently traveling to Antarctica, but he was expected to return – IF, because in all such cases there is an if , on January 9 in Sofia. It was 2010.

Just before Christmas 2014, a professional assignment connected me with Todor Abazov, a famous Bulgarian critic and professor of journalism. Slightly older than Mutafchieva, but himself a participant in the general literary field, he recalled her first remarkable manifestations in fiction. And he told me the following: Do you know that I am the prototype of Jem Sultan, his physical image that Vera has described.
It sounded amazing to me. Unfortunately, we were unable to make an interview with him about Vera, perhaps because I was not insistent enough.

When we started making Vera Mutafchieva's website at the New Bulgarian University, I was looking for her archives, unpublished texts. Thus, I came across a trace on the Internet that she participated in a competition of Bulgarian National Television in the June session of 2001 for a film based on her screenplay for the Unification of 1885. The working title was "The Union Makes the Power" – for a four-part feature film directed by Stanimir Trifonov. There was no trace in the archives of BNT. But from person to person I came across the film director Georgi Dyulgerov – it was my last hope to find the script.

I contacted him by phone – I keep notes of the conversation, the date was October 20, 2009. "I keep the script, but I can't give it. It's the same as Mutafchieva's book" Unity Makes Strength." Then the director explained to me that he had applied with his screenplay on the same topic for a feature film and that is why he kept the script of Vera Mutafchieva – "not to be accused of taking it from her".
"Friends of Vera Mutafchieva – relatives by choice" is an open project. Anyone who knew Vera Mutafchieva personally and has something to share can take part in it. We now offer you the interviews and personal memories of about twenty of them.



Sofia, July 1, 2016


________________________________________
Reprinting of this text in whole or in part is done only with the express written permission of the site administrator Veselina Vasileva or the author of the column Genka Markova. Otherwise the Copyright Act would be violated.




| | |
| --- | --- |
| | Additional materials |